The French brand is leading a pioneering project to get the ski industry to commit to the manufacture of recyclable skis. Rossignol's ESSENTIAL is the first recyclable ski, up to 10 times more than a standard ski.
Rossignol is putting the spotlight on sustainability in the ski industry by leading an industry-first project to manufacture recyclable skis. After more than 3 years of investment in R&D, the Rossignol Group has introduced its first 77% recyclable ski, about 10 times more than the average of today's skis.
ESSENTIAL RECYCLABLE SKI, MADE IN FRANCE
The result of this process is the ESSENTIAL ski, which incorporates 73% recycled and bio-based materials. Its graphic design process uses neither solvents nor water. Produced in France, in the heart of the Alps, this All-Mountain ski is aimed at intermediate and advanced skiers. The ski has been named ESSENTIAL as the first step in a new philosophy based on the recycling of skis and winter sports equipment.
The 'ESSENTIAL' project was initiated because of the low recycling potential of conventional skis due to their construction and the use of non-recyclable raw materials. Aware of this challenge, the Rossignol Group is committed to more sustainable production.
The approach introduced by the brand focuses on the rigorous and targeted selection of materials that can be easily recycled at the end of their useful life in order to come as close as possible to a circular economy.
Rossignol will put the ESSENTIAL skis on sale on its website and some points of sale in Europe and USA in December. The ESSENTIAL will be available in sizes 155, 160, 167, 172 and will have a retail price of 820€ without bindings and 1.050€ with SPX12 GW B80 Grey Organic bindings.
After a few years of use on the slopes, ESSENTIAL skis will be sent to the Sallanches industrial park in France for evaluation and integration into a circular economy process. With the introduction of this new process, the Group intends to turn the Sallanches industrial park into a major center for the evaluation, repair and recycling of its ski production. By 2028, the Rossignol Group's goal is for one-third of its skis to be part of this circular economy approach. Other products are currently being developed with the aim of achieving greater recyclability.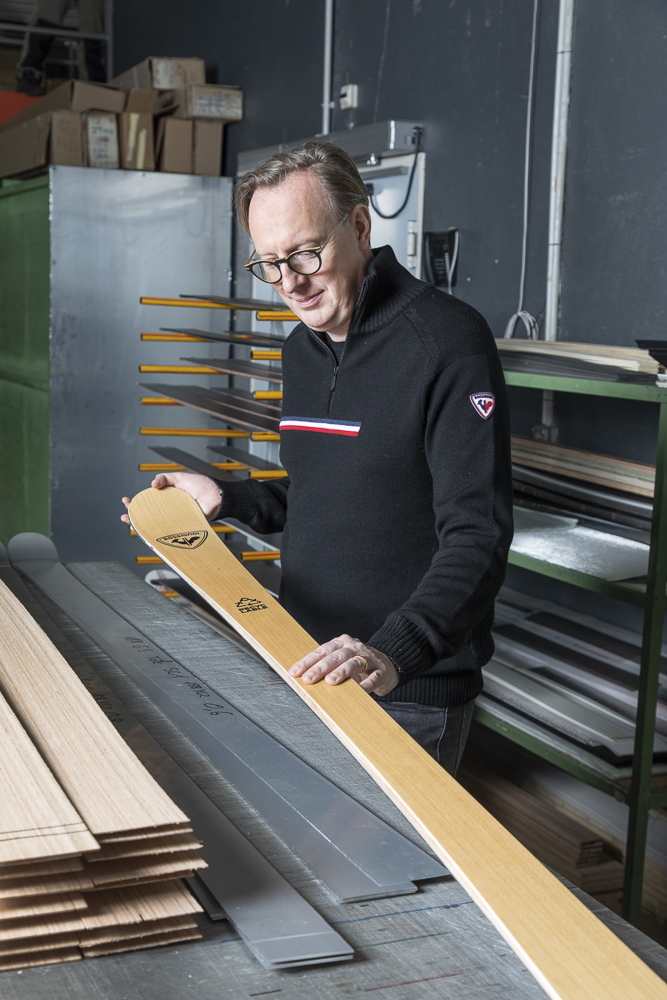 2ND CHOICE AND 2ND LIFE: THE ROSSIGNOL GROUP'S NEW "RESPECT" LINES
As part of its "Respect" program, the Rossignol Group is committed to achieving a 40% reduction in waste by 2025. To this end, different solutions have been implemented to give a second life to products discarded at the factory and to take advantage of items with aesthetic problems or finishing defects. Each finished product is subjected to a quality inspection that determines whether it can be marketed or not, and if not, whether there is an option of recovery for recycling:
2nd Choice range: This is a selection of skis with small finishing defects (scratches, imperfections, stamping problems...) that are perfectly functional, but have small aesthetic problems that do not make them suitable for marketing. These skis are available on the Rossignol website, in the 2nd Choice section at a reduced price.
2nd Life range: This is a new Rossignol collection that seeks to recycle all those skis with serious manufacturing defects that can not be marketed as 2nd Choice and those waste with potential for transformation. This range of products consists of items made from these products such as lamps, coasters, bottle openers... Each product in the 2nd Life range is a unique item that has been conceived, designed and manufactured in Rossignol's workshop in Saint-Jean-de-Moirans in the Alps.
For more information about the social and environmental responsibility program of the Rossignol Group, please visit: Respect et RSE Program - Groupe Rossignol